May 20, 2009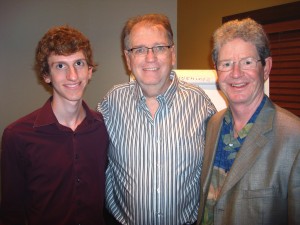 When I was 17, my mentor, Don L. Dise, gave me the book Psycho-Cybernetics by Dr. Maxwell Maltz.  I learned one of the most valuable of life lessons.  We can choose how to think about our own thinking.  In addition, we can choose how we respond to life's circumstances.  How we think about things will then determine our actions and our reactions.  Our actions and reactions will change our circumstances for the better or for the worse.  The bottom line is that we have the power to change our lives by choosing to improve our thinking and responding.  We have personal responsibility for choosing our thoughts and our actions.
My son, Ethan, will  graduate from high school this month.  Recently I asked him to come with me to  the "Peak Performance 101Workshop" at the Van Tharp Institute in North Carolina.
The focus of the class was on personal responsibility and improving one's responses to circumstances.  "Respond-ability" is Dr. Tharp's phrase for better living through better thinking and response.  The respond-ability session was kicked off with a teaching entitled "Rules for Being Human."
You will receive a body.  You may like it or hate it, but it will be yours for the entire period.
You will learn lessons.  You are enrolled in full-time informational school called life.  Each day in this school you will have the opportunity to learn lessons.  You may like the lessons or think them irrelevant and stupid.
There are no mistakes, only lessons.  Growth is a process of trial and error, of experimentation.  The "failed" experiments are as much a part of the life process as the experiment that ultimately "works."
A lesson is repeated until learned.  A lesson will be presented to you in various forms until you have learned it.  When you have learned it, you can then go on to the next lesson.
Learning lessons does not end.  There is no part of life that does not contain its lessons.  If you are alive, there are lessons to be learned.
"There" is no better than "here."  When your "there" has become "here," you will simply obtain another "there" that will again, look better than "here." 
Other people are merely mirrors of you.  You cannot love or hate something about another person unless it reflects to you something you love or hate about yourself.
What you make of your life is up to you.  You have all the tools and resources you need.  What you do with them is up to you.  The choice is yours.
It was exciting for me to share these truths with my son as he prepares to walk out the door of his family home to begin his own life of responsibility and respond-ability. 
I highly recommend that if you wish to improve your respond-ability, that you consider reading the book Psycho-Cybernetics by Dr. Maxwell Maltz, recently updated by marketing coach Dan S. Kennedy.