Sep 02, 2011
When the kids are growing up, you always worry about how they're going to turn out.  While I always worried about my daughter Diana, she has far exceeded all of my hopes for her.  She has become a great law partner, outstanding attorney, and an excellent wife and mother.  I could not be more proud of her.
The Northern Illinois University College of Law Alumni Council recently recognized Diana as the 2011 Young Alumna of the Year.  The Alumni Council stated, "Her practice focuses on serving seniors and those who love them…Most often, Diana's cients are burdened by a long term care crisis.  With passion and purpose, she serves the frail, elderly, children with disabilities, and disabled adults."
The Alumni Council also recognized that Diana is the president of the 1,345 member Kane County Bar Association, and that the Illinois State Bar Association named her Young Lawyer of the Year for 2010.  She was selected to be a "Super Lawyer Rising Star," and Leading Lawyers Network selected her as a top elder law attorney for 2010-2011.  Along with renowned Chicago attorney Kerry Peck (of the Peck Bloom Law Firm), Diana is the co-chair of the Task Force for Senior Fairness.
By Diana's Dad, Rick L. Law, Law Elder Law LLP
Pictured below:  Diana receiving the Young Alumna of the Year Award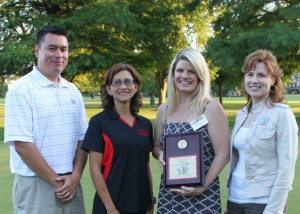 Other 2011 NIU alumni award recipients were:  Mark D. Gilwit, Esquire, Alumnus of the Year; Honorable Renee L. Robinson (posthumously), Outstanding Service Award; Honorable Ronald G. Matekaitis, Distinguished Service Award; Mrs. Betty DeGunther, Honorary Law Alumna Award; Chief Justice Thomas L. Kilbridge, Public Service Award; and Rachel Hernandez Hoag, Esquire, Mentor of the Year Award.